Skip to content
Skip to navigation menu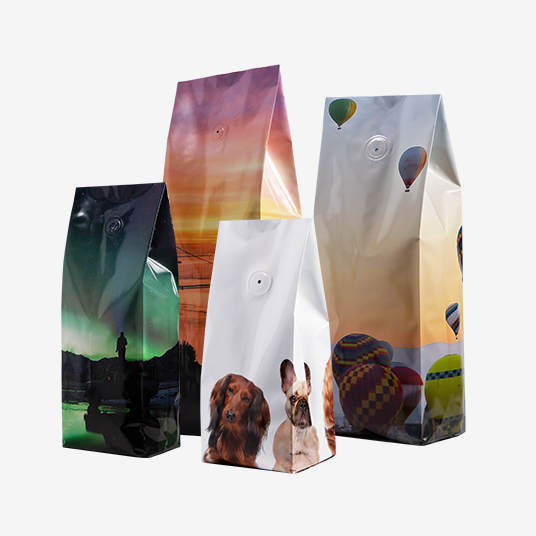 Our customized bags, manufactured with high barrier flexible packaging laminates, preserve the organoleptic properties, protecting the product from oxygen, humidity, heat and UV rays. Digital printing technology allows to include different artwork within one production batch with the same bag format. Thanks to this service you can create customized gusseted bags and doypack pouches.
Variable data printing
Technical support for your bags
Minimum order: 1000pcs customized bags
Customized packaging
Customized bags and pouches
We offer 3 types of aluminum based high barrier customized bags: choose the most suitable one for your needs and products, such as food (coffee, granulated products, in chunks or powder), pet food and much more.
Customized packaging
Advantages of the digital printing
Thanks to the digital printing technology our customers can print small customized orders and get them in a shorter time when comparing to rotogravure or flexo. Each printing can potentially be done with different elements: colors, languages, graphics, information or unique codes, as anticounterfitting tools. This features offers our customers multiple market opportunities.
Customized packaging
Why ordering on Goglio Espress?
For 170 years Goglio has been next to the customer every step of the whole production and packing process. Choosing us guarantees the result. Thanks to our E-Commerce, small companies requiring small batches can get certified and quality customized bags.
Discover the Sales Condition

Variable data printing
Keeping the same format, you can quickly and efficently handle the variable information, such as unique codes, colors, descriptions, graphical elements, information.

Mutiple orders
Thanks to the digital printing technology you can produce, within the same batch, more orders with different graphics, optimizing timing and costs.

Technical support
Our support service is available to suggest the most suitable type of bags and format for your product.

Small quantities
An offer designed also for small companies which require high quality small batches.
Customized packaging
Goglio experience in food and non-food packaging
For 170 years Goglio has been satisfying customer needs in terms of quality and reliability. Discover the packaging solutions that best fit your product.
The most polpular markets
All our unprinted or customized aluminum based bags are suitable for every market sector, from food products (coffee, products in grains, in chunks, in powder or liquid), pet food or detegents, that can be packed under vaacuum, in protective atmosphere, in aseptic or with hot filling technology. The complete Goglio system is suitable for any sector and product.
Main markets
Quotation for customized pouches and bags
Are you looking for a specific format? Please fill in the form below with the necessary data; we will send you an offer within 48h.
High customization
Micro-batches
Technical support
Unprinted ready for shipment bags
Unprinted ready for shipment bags
Are you looking for a ready for shipment package? Discover our flexible laminates offer.
SUBSCRIBE TO OUR NEWSLETTER
Exclusive access to promotions
Preview access to our sale campaings