Skip to content
Skip to navigation menu
Gussetted Bag with valve
ID
SRV.0991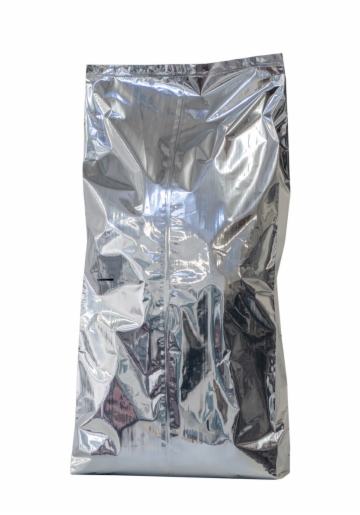 Gusseted bags, with valve, silver – 12-25 kg
Metallized polyester-based bag with side gussets and back central seal. With degassing valve.
mm 395x110x880h
1 box = 400 pieces
25 kg
Bags in a three layers structure with metallized polyester, with back central lap seal
Bags made with a three layers laminate containing metallized polyester, with side gussets, back central lap seal. With high flow degassing valve for an optimum palletization.

Additional information on the aluminum bags:
Filling capacity: 12-25 kg / 30 dm3
The weights in grams are referred to coffee beans.
Dimensions: mm 395x110x880h
Material: PE / PETMET / PE

These gusseted bags with metallized PET are suggested for:
Food, such as coffee beans, ground, instant, decaf, pods, capsules dry pet food and for all the powder and granulated products for which it is necessary an optimum palletization and the preservation of the freshness and the aroma.
Product Attributes
| | |
| --- | --- |
| Minimum Quantity | 400 |
| Maximum Quantity | 2000 |
| Bags per carton | 400 |
| Max cartons per pallet | 4 |
| Min cartons per Pallet | 1 |
| Capacity | 25 kg |
| Color | Shiny Silver |
| Front Width (W) | 395mm |
| Length (L) | 880mm |
| Gusset Width (G) | 110mm |
Documentation